CLIMATE POSITIVE DEVELOPMENT PROGRAM
After measuring CO2 emissions related to wheat flour production and certifying the results through EPD, our first unavoidable commitment is to reduce emissions as much as possible.
In fact, the MARC methodology requires that in order to achieve our goal of becoming Climate Positive for the milling part by 2030 and then for the entire supply chain by 2050, we put in place targeted strategies and actions to reduce our impacts.
To this end, we have equipped ourselves with a plan to reduce emissions from the CORE phase (i.e., the milling production process) by 4.2 percent per year starting in 2022, aligning us with the trajectory outlined to limit climate warming to 1.5°C above pre-industrial levels.
This is the ambitious trajectory envisioned by the Paris Climate Agreements, as well as what civil society is increasingly calling for from public actors as well as companies to avert the most disastrous consequences of the climate crisis. Always strongly linked to the territory and people, Molino Pordenone could not ignore this call for change and decided to commit to a virtuous path. The starting point for drafting the reduction plan is a meticulous analysis of the aspects of the product life cycle that have the greatest impact on CO2 production.
Involving all the people working in the organization is the winning strategy for managing production more responsibly: all the company's employees were able to bring a significant contribution through their creative and unique point of view. By actively involving people, we trigger a process that brings attention to the issue of environmental responsibility: the response is enthusiastic and brings with it a proud sense of belonging to a project that in a concrete way wants to leave future generations a better world.

Our actions to reduce CORE CO2 emissions.
Supported by the forestry engineers and technicians of our scientific partner Etifor, we have identified and implemented the activities in our power to cut down the emissions produced by the CORE phase as much as possible.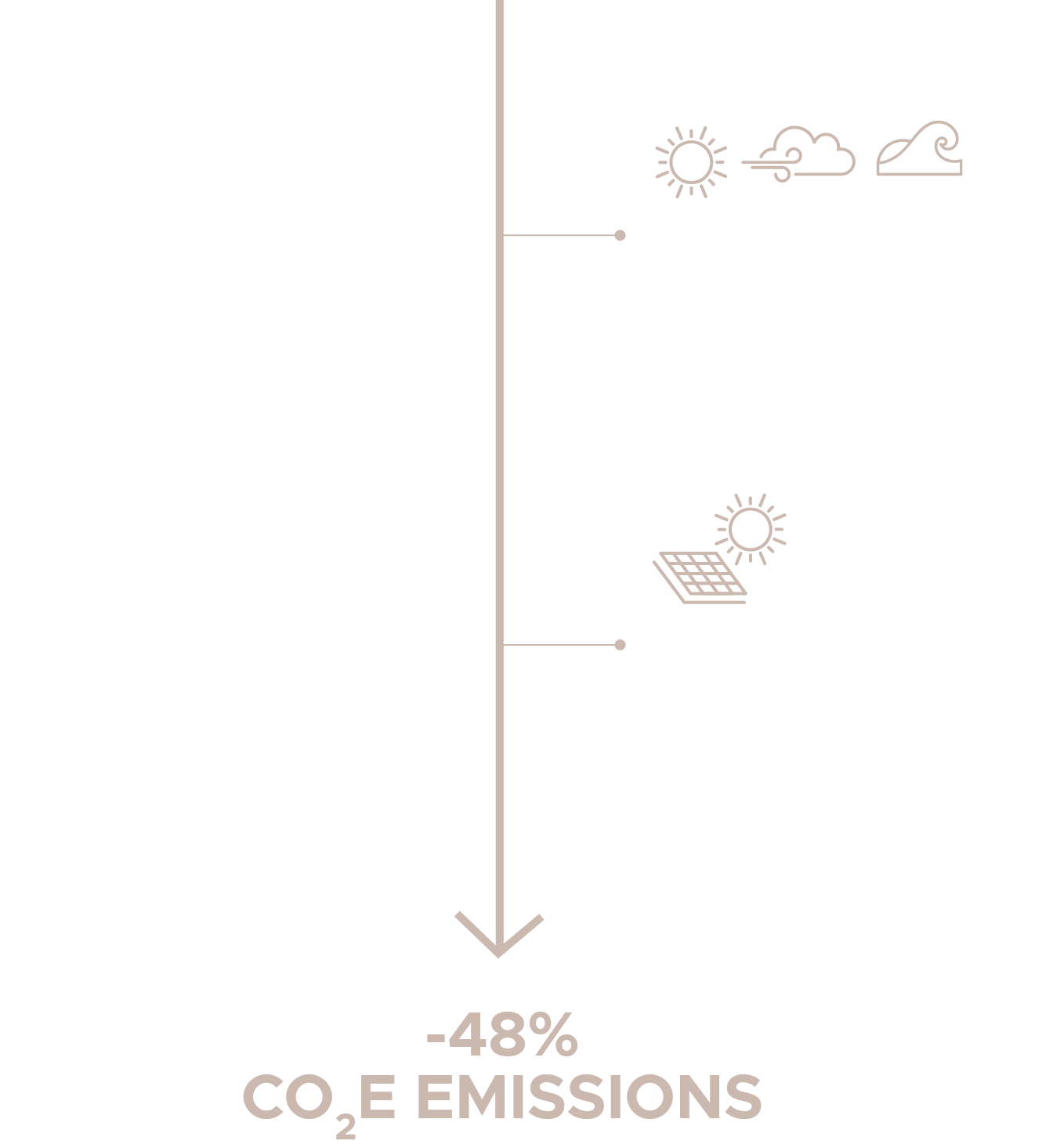 As a result of these actions, the CO2 impact related to the production process has decreased by 48%, minimizing emissions due to the part of operations under the direct control of the company.
Throughout the duration of the MOLINO2030 project, we will continue to analyze periodically, together with our scientific partners, the possibilities for reducing impacts, seizing new technical opportunities with a view to continuous improvement. In parallel, we will continue to offset emissions that we cannot eliminate, through environmental projects that defend and preserve precious forests.